I hope everyone is having a fun and SAFE summer out there! The purpose for this blog post is to share a personal experience we had encountered here at the Twin Maple Farm. Sharing this experience will be in hopes of helping you and your family stay safe not only outside but inside your home as well!
It all started when we bought our farm about 10 years ago. Like everyone, we have always pumped out our septic system every two years to ensure proper operation and longevity of our system. What we noticed was something we had absolutely no idea was tied to our septic system. For 10 years, we had noticed in the summer an overwhelming population of inside mosquitoes. Having a house built around 1840 and a less than marginal remodel done by previous owners was understandable having some of these critters around. As time went by the problem just got worse and worse… The sleepless nights of swatting and sores from hungry mosquitoes was more than bearable. So this year with the threat of the Zika Virus and all its complications, I started doing tons of research on my computer. I finely discovered a new problem someone on line had found and wondered if THIS… could be our answer!
We all know how mosquitoes love to breed in static water and have been told time and time again to empty any containers of water around your home. But this problem is very unusual. The critters were actually breeding in the septic tank and traveling through the drain system coming out into the house! So, I immediately started isolating my problem to our shower drain where I actually saw them coming out. I also needed to prove out the scenario so I installed packing tape sealing up drain. After vacuuming up all bugs it was now a matter of time… it will tell! It's unbelievable!!! No More mosquitoes! Problem Solved!
The task of a  permanent solution was now at hand and what to do now? To have them actually reach the tank, it had to be only one place. The vent pipe for the plumbing needed to be secured with screen from flying mosquitoes entering. Well, my roof is a 12/12 pitch, which means this guy is not going there! At this point, I wasn't quite sure if my shower even had a trap and if it mattered or not. To rip out the shower to find out was not an option . So I went to a bath store and bought this simple $8.00 drain seal. (See picture #2)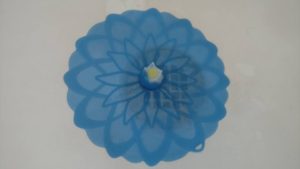 Picture #2 Shower Drain Cover – by Richard Yvon
Protecting you and your family should not end here! Things we found to help us deal with mosquitoes…

Always where some kind of bug spray. We love Herbal Armor Natural Bug Spray (Deet Free)
When camping, try to enter your tent before dark.
Check your screens for holes in tents, house windows etc…
Pump out your septic regularly and keep pools of water vacant around your property.
Check your sump hole for standing water and breeding mosquitoes.
Cut grass short – keeping tall grass away from your outdoor living area.
Where long sleeve shirts and bug mask when mosquitoes are active day or night.
I hope this article will help some of you out there! So stay safe and protect you and your family from dirty, disease carrying mosquitoes!
Save
Save
Save
Save
Save
Save
Save
Save
Save
Save
Save
Save
Save