Our trips with instruction are enjoyed in a 18′ StealthCraft Boat! Our boat is extremely stable with an 80″ beam which means our instruction on fly fishing can be enjoyed safely with plenty of room and stability. We highly recommend these wonderful boats for both guides and the recreational user. Whatever water you are on, StealthCraft Boats have what you need in function and form. A beautifully crafted boat with room, convenience and safety in mind. A big part of the reason our customers come back to the West Branch Penobscot River here at Twin Maple Outdoors, is to drift fish from our comfortable StealthCraft boat.
StealthCraft Boats Ambassador – Richard Alan Yvon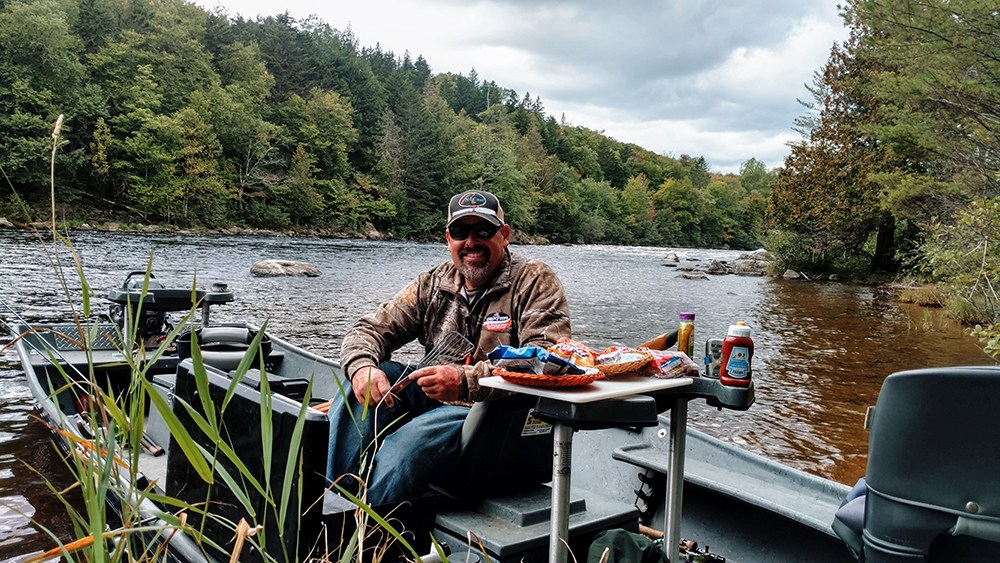 Stealthcraft Boats originated in 1997 designed around an old drift boat mold from River Works in Welleston, Michigan. Jim Johnson, former owner of Johnson's Pere Marqette Lodge, had been selling boats in large numbers from his shop and decided it was time to build one specifically designed for fisherman and guides. Mike Batcke took the torch over in 1999 and still looks back to Jim for design advise and technical support. The Johnson family has gone back to outfitting in the summer in Alaska at the Naknuk River Lodge.  Winter takes them to Belize where they operate the Blue Bonefish Lodge in Belize.
A note from owner, Captain Mike Batcke…
I can still remember my first day of fly fishing. I was wading the Pere Marquette River in Northwestern Michigan on a warm June evening about 30 years ago. The river was full of trout rising to some sort of mayfly.  I was throwing a discount store bought fly, using a clicker fly reel with no drag and a cheap fly rod. I stumbled upon a huge trout rising against the bank about 30 feet away, but with my heavy, slow action fiberglass rod, I couldn't throw a loop tight enough to reach it but failed to get the hookup.  I headed back to the car after dark, disappointed, but motivated to beg, borrow or steal one of those fancy new graphite rods that was just starting to change the fishing world forever.
There is almost no aspect of our sport that hasn't been revolutionized by the new high tech materials that science has delivered to the marketplace. Graphite, kevlar, titanium, ceramic, high impact epoxies, thermoplastic resins…the list goes on and on. Even our clothing and waders has been modernized using waterproof breathable shells and moisture wicking fabrics.
So why are driftboat builders still wallowing in the past, using the same inexpensive fiberglass cloth and brittle resins that made our old fly rods so heavy and unresponsive?
This isn't true of the rest of the performance boat world. Offshore racing boats, America's Cup sailboats, high tech flats boats and even high performance canoe manufacturers have all switched to combinations of carbon and kevlar, high-impact cores and the new super-epoxies and resins.
We looked at the driftboat design with a completely clean slate. No preconceptions. None of those old "it's always been done like this" or "Hyde sells a lot of boats by doing it like that." Not even any "sure that would be nice, but it would be cheaper to do it this way."
The only criteria was whether a change would make the boat lighter, faster, more impact resistant, quieter and less visible to fish. We demanded a boat that would float shallower, row easier, sneak closer and hold up to the abuse that a guide would give it.
After all, we are fishing guides ourselves, and frankly, we were tired of bright colored boats that made lots of noise when they bumped a rock scaring our clients fish away before they had an opportunity to catch them and thereby costing us tip money. StealthCraft Boats feature a virtual Who's Who list of high tech materials. The hull combines the extreme toughness of kevlar, the lasting strength of epoxy, the lightweight stiffness of graphite, the sound deadening properties of aircraft grade polypro honeycomb and the slipperiness of an ultra high molecular weight Duraslick bottom.
100 pounds lighter than any of our competitors boats and tougher than even an aluminum drifter.