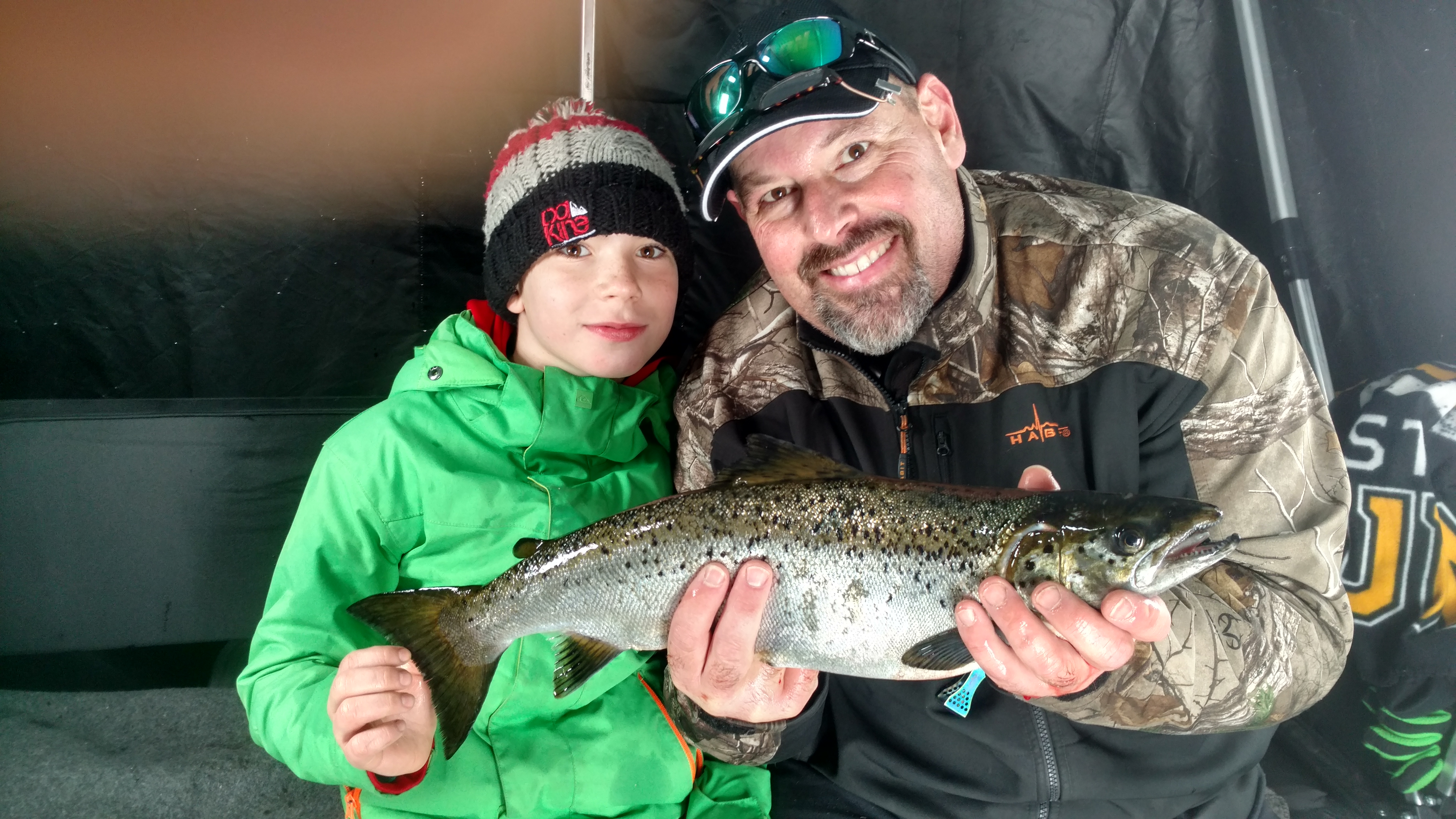 Twin Maple Outdoors Ice Fishing
Featuring Eskimo Ice fishing Gear, DaddyMac Lures, Als Goldfish,  Bay De Noc lure company Nebulus, Mr. Heater
Experience Winter in Maine with comfort-packed fun and relaxation!
As with any guided trip, our trips always include instruction, tips, and FUN! We specialize in remote lakes in Maine.  All full-day trips include a BBQ lunch, hot chocolate or coffee, and bottled water.
We offer a 1st class personalized trip that will include all the safety gear, equipment, and know-how. We have been ice fishing in Maine for over 35 years!
Targeted Fish – Land Lock Salmon, Lake Trout, Brook Trout, Cusk, and White Fish ( White Fish available only on a multi-day trip due to the location of the lake)
Targeted Water – Glacial Lakes
Need Accommodations? We have a Luxury Sporting Lodge that will accommodate 6 people! Your trip can be bundled with a trip to save you money. Please check out our Lodge Click  Here...
Call us for availability at 207-907-9151 today!
Our Winter Activity Policy – Mandated Shoe Spikes/Chains
Being safe on and off the ice is priority #1! For your own protection, we have mandated the use of shoe chains or ice spikes on our winter trips. In Maine, we have daytime melting and evening freezing which enhances slipping from forming black ice. We recommend you bring your own or we will supply you a set for your shoes. In the past, we have always offered and recommended shoe spikes but we have now mandated the use of spikes/chains due to unpredictable weather patterns. *Even though surfaces are sanded, black ice can still form and not be seen by the naked eye. Please play it stay safe wherever you are!
Who Needs A License?
A valid Maine fishing license is required for anyone 16 years of age or older, to fish in inland waters or transport fish taken from inland waters.
Click on Moses and buy your Maine Fishing or Hunting License …

MUST HAVE LIST for ICE FISHING
Full Rain/Winter Suite
Waterproof, insulated, winter boots
Shoe Spikes or Shoe Chains – CHECK OUT HERE
Appropriate socks, mittens, hat, hot hands
Sunblock lotion, sunglasses
Valid State of Maine Fishing License for persons 16 and older…
We have the latest quality equipment and know-how to make your experience fun, interesting, and rewarding.
Some of our equipment lists include…
*  In addition to our own Luxury Lodge, we also partner with Ice fishing camps for accommodations on several Maine Lakes.
*  We will offer a 10% discount on all trips when staying in our Lodge.
Call Us Today!!! 207-907-9151
Ice Fishing Trips per Two Anglers
Full day 1 or 2 people – $600  (Instruction, Lunch, and Gear is Included for a full day)
note* Trips are discounted to $550 with a 2-night lodge stay
Family children 12 and under are FREE!
* $50.00 per person extra up to 4 persons extra in total.
please note* Accommodations and fishing licenses not included.
Example: Two fishing adults and three family children 12 and under would be $500 for a full day.
Save
Save
Save
Save
Save
Save
Save