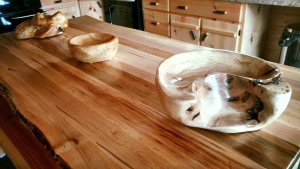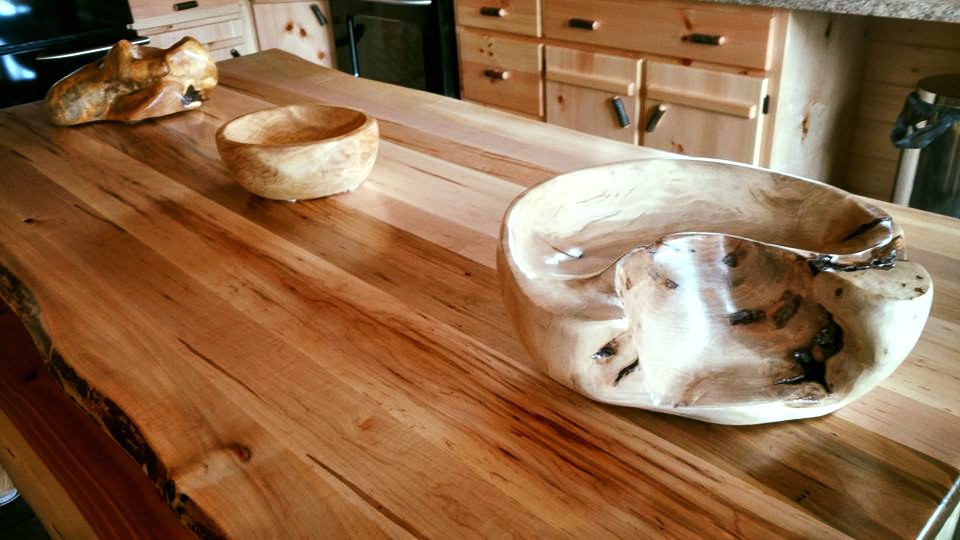 The Craftsman…Rodney has been an outdoorsman his entire life. As a Master Maine Guide, he has always loved sharing his passion for the outdoors and now through his wood works comes a form of natural beauty, passion and talent. Each masterpiece is formed to capture the essence of Maine.
Maine Burl Bowls and Tables are for people who love trees, wood, and appreciate having a very special piece of wood art. These natural treasures are primarily for artistic display, both visually and for the feel of the wood texture. The tables serve a practical but yet elegant addition to any natural decor. Burl Bowls are not intended for frequent practical use, although their finish is food safe and some folks have used them for serving or displaying food. The burl tables are exotically beautiful… They are mounted on special select drift wood that has been naturally aged in Maine's freshwater lakes and ponds. Each burl is specially selected and slow dried for at least one year to reduce checking and cracking. Each piece of wood is entirely unique and special providing a true natural treasure. Products are made from indigenous wood such as Cedar, Oak, Rock Maple, and Birch.
How do I purchase one?

We will be selling the pictured items exclusively through Twin Maple Outdoors Lodge and also through inquiry. Each item is sold on first come first serve basis. Ordering for "Like" style products may be ordered. Pricing will be available in the near future at https://twinmapleoutdoors.com or by request at: http://[email protected]. Thank You!
[slideshow_deploy id='2911′]
What is a BURL?
A burl results from a tree undergoing some form of stress. It may be caused by an injury, virus or fungus. Most burls grow beneath the ground, attached to the roots as a type of malignancy that is generally not discovered until the tree dies or falls over. Such burls sometimes appear as groups of bulbous protrusions connected by a system of rope-like roots. Almost all burl wood is covered by bark, even if it is underground. Insect infestation and certain types of mold infestation are the most common causes of this condition.